https://en.wikipedia.org/wiki/List_of_pipeline_accidents_in_the_United_States_in_the_21st_century
The actual article begins the list in the year 2000, I am only posting the list of 2014-2016 spills.......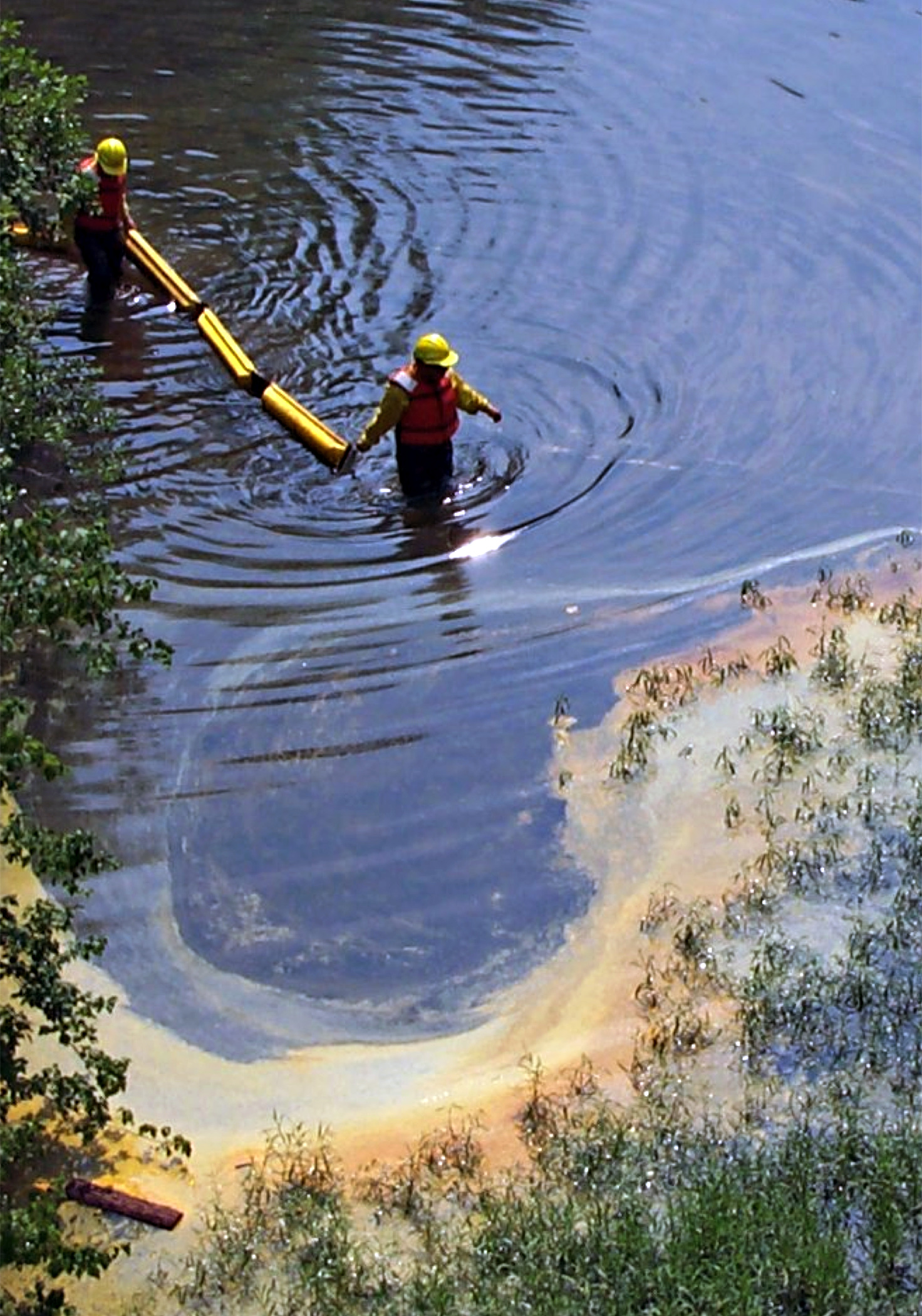 On January 7, a Colonial Pipeline line leak from equipment failure in Fountain Inn, South Carolina, spilling about 52,000 gallons of petroleum product, of which around 8,000 gallons was not recovered.[207]
On January 10, a 12-inch PSNC gas transmission pipeline exploded and burned in Asheville, North Carolina. The cause was damage to the pipeline during installation in 2003. There were no injuries, but the costs of property damage was around $825,000.[475]
On February 10, a gas pipeline exploded and burned near Tioga, North Dakota. There were no injuries.[476]
On February 13, a 30-inch diameter Columbia Gulf Transmission gas pipeline carrying natural gas exploded near Knifley, Kentucky, sending two people to the hospital with injuries, destroying two houses, and alarming residents, who saw flames from miles away. Later, it was determined that Hydrogen embrittlement had caused the pipe failure from when the pipeline was installed in 1965.[477][478]
On February 19, a leaking gas main caused a gas build up in a nearby rowhouse, that exploded in [Baltimore, Maryland], killing one youth, and seriously injuring another walking by the area. 3 other people had minor injuries. The area on the gas main near the leak had been patch twice in previous months.[479][480]
On March 6, contractors working for Shell Oil Company hit Shell's Houston-to-Houma (Ho-Ho) crude oil pipeline near Port Neches, Texas, spilling 364 barrels of crude oil.[481]
2014 East Harlem gas explosion: On March 12, there was a gas explosion in New York City, New York. NTSB investigators found natural gas in the soil nearby, indicating that the gas leak had existed for a while before the explosion.[482]
On March 18, a 20-inch Mid-Valley Pipeline Company pipeline failed in Hamilton County, Ohio, spilling at least 364 barrels of crude oil into the adjacent Oak Glen Nature Preserve. Animals in the area were affected.[483][484]
On March 18, a 3-inch, half-mile flare waste gas pipeline in a neighborhood in Arvin, California, was discovered leaking, a few blocks from Arvin High School, in a residential area. It had been leaking for as long as two years.[485]
On March 31, a pipeline running to a Williams Companies LNG storage facility in Plymouth, Washington exploded and sent shrapnel flying that ruptured an LNG storage tank. Nearly 1,000 residents were evacuated and at least five employees at the facility were injured.[486][487]
A 12-inch Williams Companies gas pipeline failed at a weld in Moundsville, West Virginia. The following explosion and fire explosion scorched trees over a 2-acre area near Moundsville. Several houses were evacuated as a precaution. There were no injuries reported.[488]
On April 17, a private excavator accidentally cut a gas line while doing some work in Union Township, Licking County, Ohio on April 17. The man suffered second degree burns to the upper portion of his body. There was no damage to any buildings.[489]
On April 23, an explosion and fire hit a Williams Companies gas processing plant in Opal, Wyoming. All 95 residents of the town were evacuated, and part of US Highway 30 was closed for a time.[490][491]
On May 6, Sinclair Oil Corporation pipeline operators detected a pressure drop on a pipeline, with the problem being traced two days later to a leak in Knox County, Missouri. A mixture of gasoline and Diesel fuel contaminated soil on a farm.[492]
On May 12, three workers from Plantation Pipeline inadvertently ruptured their pipeline at a pump station in Anderson County, South Carolina, causing a geyser of gasoline, and spraying the workers with it. There was no fire, but the workers had to be decontaminated at a hospital.[493]
On May 17, at Port St. John, Florida, Kinder Morgan's 36" Florida Gas Transmission pipeline ruptured, forcing evacuation of 7 homes and halting train traffic through Brevard Co. for 3 hours near the Florida Power & Light plant. Florida Gas Transmission workers searched for a leak when pressure dropped in the line. Homes, vehicle & train traffic were reopened after the remaining gas escaped from the pipe.[494] This pipeline failure caused $177,321 in property damage.[495]
On June 26, near East Bernard, Texas, a gas pipeline adjacent to a Kinder Morgan gas compressor plant blew out, destroying the roadway and setting a nearby truck on fire just south of Highway 59. Flames as high as 150 feet were shooting out of the pipeline. The focus was on a 27-inch pipeline that sends gasoline to different tank farms along the line.[496]
On July 10, a vent stack at a Williams Field Services gas pipeline compressor station in Susquehanna County, Pennsylvania caught fire. Only minor damage was reported at other parts of the station.[497]
On July 23, at Milledgeville, Georgia, Midway Elementary School faculty and staff were evacuated due to a fire caused by a gas leak at nearby Southern Natural Gas Co. tap station. Fire rescue personnel closed down Highway 441 South for an hour. Due to the amount of pressure, precautionary measures were taken so pipe wouldn't rupture under the road while Southern Natural Gas tried to determine the cause of the leak. "It could be some type of failure in a valve or regulator. Right now we don't know but Southern Natural Gas is looking into it." No injuries were reported.[498]
On August 4, a Greka 6 inch pipeline spilled over 1,200 gallons of crude oil at the Zick Compressor Station by Williams Field Services in Hop Bottom near Santa Barbara County, California. The oil spread out over less than a mile from the leak and did not enter a river. The station can process 455 million cubic feet of natural gas per day.[499]
On August 12, a mulching machine hit a 12-inch natural gas pipeline in Rusk County, Texas. The operator of the machine was killed in the following explosion.[500]
On August 21, four workers were injured in a fire while a crew was performing maintenance on a natural gas pipeline in Garvin County, Oklahoma. The injured workers were treated and released from a hospital, and there was no explosion.[501]
On September 14, a contract worker performing routine maintenance on a Chevron offshore gas pipeline was killed, and two other workers were injured. The accident occurred 6 miles south of Timbalier Bay off the southeast coast of Louisiana.[502]
On September 16, more than 500 residents of Benton Township, Michigan, were forced to leave their houses for 10 to 12 hours, after authorities discovered a leak on TransCanada Corporation's 22-inch ANR gas transmission pipeline.[503][504]
On October 13, a gas transmission pipeline failed near Centerview, Missouri, causing an explosion and massive fire for several hours. There were no injuries.[171][505]
On October 13, a Sunoco/Mid-Valley crude oil pipeline ruptured, and spilled about 168,000 gallons of crude oil in Caddo Parish, Louisiana. Wildlife was killed.[506]
A 24-inch gas transmission pipeline was hit by excavators on October 23, near Newport, Arkansas. Five nearby houses were evacuated, and two highways and a railroad were closed for a time. There was no fire or injuries.[507]
On October 28, an 8-inch natural gas condensate pipeline exploded in Monroe County, Ohio. A large fire followed. There were no injuries.[508]
On December 8, gasoline was discovered leaking from Kinder Morgan Plantation Pipeline in Belton, South Carolina. It was found that the 26-inch pipeline had leaked into a nearby creek. The cause was a failure at a sleeve that was part of an earlier repair.[509] As of April 2015, it was estimated that 8,000 barrels (42 gallons per barrel) or more than 300,000 gallons of gasoline had leaked. After four months of cleanup, only 176,901 gallons of product had been recovered and removed.[510]
On January 14, during work to free a trapped inline inspection unit, a leak was discovered on the Evangeline Pipeline, near Cameron Parish, Louisiana. This pipeline had been given a Corrective Action Order in October 2014, due to a number of leaks.[511][512][513]
Also on January 14, a gas pipeline exploded near the Ross Barnett Reservoir in Brandon, Mississippi, creating a sizable crater in the ground and burning 6 acres of vegetation before the fire was extinguished. No injuries were reported. The failure was due to a "hard spot" from manufacturing, that already had a repair sleeve on it. There are 788 sleeves on the Index 129 pipeline from Edna, Texas, to Sterlington, Louisiana; and, 726 sleeves on the Index 130 pipeline from Marchand Junction, Louisiana to Kosciusko, Mississippi. Both were built from pipe made in 1952.[514][515][516]
On January 16, a transmission pipeline operated by Kinder Morgan subsidiary Southern Natural Gas had an equipment malfunction in Walthall County, Mississippi.[517]
On January 17, oil from a broken pipeline seeped into the Yellowstone River, and contaminated the water supply 10 miles south of Glendive, Montana. The release was from Bridger Pipeline LLC's 12-inch Poplar line, which can carry 42,000 barrels a day of crude from the Bakken formation and runs from Canada south to Baker, Montana. Bridger Pipeline is a subsidiary of True Cos., a privately held Wyoming-based company. The company said in a statement that the pipeline was shut down within an hour of the leak. About 30,000 gallons of crude was spilled, with about 28,000 gallons of crude being lost.[518][519][520]
On January 21, a petroleum products pipeline in Honolulu, Hawaii ruptured, due to external corrosion, spilling about 42,000 gallons of petroleum product, of which about 22,000 gallons was lost.[521]
On January 21, a crude oil pipeline pump station caught fire northwest of Texas City, Texas. Texas City fire officials said that company officials reported that there had been issues with the pump station over the weekend.[522]
On January 26, a 20-inch ATEX pipeline carrying ethane exploded and burned in Brooke County, West Virginia. Despite snow in the area, five acres of woodlands burned, and 24,000 gallons of ethane were consumed. The fireball melted siding on nearby homes and damaged power lines; it is believed that day's snowy weather lessened the damage. Initial reports suspect a girth weld failure, with the pipeline being less than two years old. There were no injuries.[523][524]
On January 29, near Bowling Green, Missouri, a rupture in a Rockies Express 42-inch natural gas pipeline blew a 20 by 20-foot crater and forced a six-hour evacuation of 50 families. The rupture occurred in a vacant field a few yards east of Pike County Road 43. Strong winds helped dissipate gas until a temporary cap was put in place.[525] This explosion caused $2,672,345 in property damage and was due to a fault in the pipe's fabrication or construction.[526]
On February 10 in Hopkinton, Massachusetts, the temperature caused "natural force damage" to a Kinder Morgan Tennessee Gas Pipeline, causing $55,150 worth of property damage.[517]
On February 17, a suspected electrical arc made a hole in a Marathon Petroleum pipeline in Shively, Kentucky, spill about 6,700 gallons of jet fuel. More than 2,500 tons of soil were removed to clean up the area.[527][528]
On February 25, a 26-inch crude oil pipeline in Navarro County near the Town of Dawson, Texas, failed, spill about 50 barrels of crude oil. Near the failure, investigation showed that the pipe had lost about 80% of its thickness, due to external corrosion. This anomaly was not seen in a 2011 test of this pipeline.[529]
On March 2, a Kinder Morgan Tennessee Gas Pipeline leaked due to equipment failure, causing $281,890 of property damage in Marshall, Mississippi.[517]
On March 13 a pipeline Patrol pilot identified an oil sheen on a pond near Tehuacana Creek, Texas which was then linked to a leaking 10 inch petroleum products pipeline. About 50 barrels of diesel fuel were spilled.[530]
On March 20, a pipe owned by Kinder Morgan subsidiary Southern Natural Gas failed in Rolling Fork, Mississippi, and on March 23, another of that subsidiary's pipes failed due to equipment malfunction in Augusta, Georgia, causing $311,785 in property damage.[517]
On April 9, 2 Williams Companies pipelines broke within hours of each other in Marshall County, West Virginia. A 4-inch condensate pipeline broke at 8 pm local time, spilling about 132 barrels of condensate into a creek. Around 10:50 pm local time, a 12-inch gas pipeline ruptured. There was no fire or injuries. Heavy rains were said to be the cause of the failures.[531][532]
On April 13, a Kinder Morgan / Natural Gas Pipeline Co. of America pipeline exploded and burned near Borger, Texas. One home was evacuated, but, there were no injuries. The explosion, caused by equipment failure due to environmental cracking, caused $455,000 in property damage.[533]
On April 17, a 12-inch natural gas pipeline near Fresno, California operated by Pacific Gas and Electric Corp was ruptured by a backhoe. The resulting explosion killed 1 person and injured 12 others.[534]
On May 15, Kinder Morgan's Tennessee Gas Pipeline leaked in Powell County, Kentucky causing $23,400 in property damage.[535]
On May 19, a Plains All American Pipeline oil pipeline ruptured near Refugio State Beach, also near Goleta, California, spilling about 124,000 gallons of crude oil. It is referred to as the Refugio Oil Spill.[536][537]
On May 31, a 24-inch natural gas back-up pipeline that runs under the Arkansas River in Little Rock, Arkansas ruptured releasing 3.9 million cubic feet of natural gas. The pipeline was not currently in use. No one was injured. A tugboat was damaged.[538][539]
On June 9 in Moorehouse Parish, Louisiana, Kinder Morgan's Tennessee Gas Pipeline equipment failed, due to environmental cracking, and leaked, causing $73,395 in property damage.[517]
On June 9, a 24-inch natural gas pipeline ruptured in Lycoming County, Pennsylvania. About 130 individuals were evacuated from their homes. No injuries or damage reported. there was no fire The cause was Stress corrosion cracking.[540][541]
On June 10, Kinder Morgan's El Paso Natural Gas control/relief equipment failed and leaked in Gray County, Texas.[517]
On June 13, a 42-inch gas gathering pipeline exploded and burned near Cuero, Texas. 7 homes were evacuated for a time, but there were no injuries.[542]
On June 15, Kinder Morgan's Natural Gas Pipeline Co. of America equipment failed for unknown causes, with $260,555 of property damage in Marshall, Texas (that area's third documented Kinder Morgan leak).[517]
On June 18, in Victoria Texas, Kinder Morgan's Tennessee Gas Pipeline pipe failed due to external corrosion and caused $159,346 in property damage).[517]
On June 22, a truck driver was killed when his rig veered off a highway and broke above ground facilities for a propylene pipeline in Houston, Texas. The highway was closed for several hours while the gas dissipated.[543]
Four workers were hurt on June 25, when a 4-inch gas pipeline exploded at a gas pipeline facility, near White Deer, Texas. 2 of the workers were critically injured. The cause of the explosion was not immediately known.[544]
On July 10, a fitting on a 20-inch Plains All American Pipeline crude oil pipeline broke, spilling 4200 gallons of crude oil near Grantfork, Illinois. Much of the crude reached a nearby creek. There were no injuries.[545]
On July 15, two workers were hurt by an explosion, when a bulldozer hit a 4-inch gas pipeline, at an EQT gas compressor station in Worthington, Pennsylvania.[546]
On August 3, two individuals were injured in Falfurrias, Texas when a natural gas pipeline operated by Kinder Morgan ruptured and exploded due to external corrosion, with $191.498 in property damage. Later investigation showed that the pipe split along an ERW seam.[547][548]
On August 7, a natural gas liquids pipeline in Weld County, Colorado burned, after being struck by a third party.[549]
0n August 13, crew working for Colonial Pipeline damaged one of Colonial's lines in Kannapolis, North Carolina, spilling about 6,000 gallons of petroleum product. About 1,000 gallons of product was lost.[207]
On August 13, a natural gas pipeline in Cypress, Texas ruptured and leaked while a contract crew worked in the area. The pipeline was owned by Gulfsouth Pipeline. There were no injuries or immediate damage; residents were evacuated.[550]
On August 26, two maintenance divers were injured while working on a pipeline owned by Boardwalk/Gulf South Pipeline Co. 25 miles offshore of Louisiana when the pipeline ruptured, and the gas ignited.[551]
On September 21, a Colonial Pipeline 32 inch main line was discovered to be leaking in Centreville, Virginia. At least 7,000 gallons of gasoline were spilled, forcing several nearby businesses to close.[552][553]
On October 8, an explosion occurred at a Williams Companies pipeline facility in Gibson, Louisiana. 4 employees were killed, and, one other injured. The cause of the explosion was from procedure not being followed during welding work.[554][555][556]
On November 30, about 11,000 gallons of gasoline, butane and propane leaked from a pipeline in eastern Summit County, Utah.[557]
On December 8, a contractor drilled into an 8-inch buried oil line (200 mm) that transports oil from a holding station in Ventura to a Wilmington refinery near Long Beach while setting new poles for Southern California Edison along State Route 118 near Somis that spilled about 7,980 U.S. gallons (190 barrels).[558]
On January 2, 3 people were injured, and numerous homes were damaged in Oklahoma City, Oklahoma, when a leak gas from a gas main entered a home. Preliminary results indicate that a leak occurred at a weld seam on the gas main.[559]
On January 9, a 30-inch Atmos Energy gas transmission pipeline exploded and burned in Robertson County, Texas. 4 families nearby were evacuated.[560]
On January 11, butane leaking from a pipeline storage facility, in Conway, Kansas, forced a closure of a nearby highway for a time.[561]
On February 14, a 6-inch crude oil pipeline broke near Rozet, Wyoming, spilling about 1,500 gallons of crude oil into a creek bed.[562]
On February 16, an explosion and fire occurred at a gas plant in Frio County, Texas. 2 employees at the plant were injured.[563]
On February 24, a 10-inch propane pipeline exploded and burned, near Sulphur, Louisiana. There were no injuries. About 208,000 gallons of propane were lost, and, the cause of the failure was not found.[564][565]
On March 11, about 30,000 gallons of gasoline spilled from a leaking plug on a pipeline, at a tank farm in Sioux City, Iowa.[566]
On March 22, about 4,000 gallons of gasoline spilled from a 6-inch petroleum products pipeline in Harwood, North Dakota.[567]
On April 2, the TransCanada Corporation Keystone Pipeline was observed by a local resident to be leaking, near Freeman, South Dakota. The cause was a crack in a girth weld, and amount of tar sands dilbit spill was about 16,800 gallons.[568][569]
On April 12, a pipeline at a gas plant in Woodsboro, Texas exploded, killing 2 men, and injured another worker.[570]
On April 17, a 10 petroleum products pipeline failed in Wabash County, Illinois, resulting in a sheen on the Wabash River. About 48,000 gallons of diesel fuel was spilled.[571]
On April 29, a 30-inch Texas Eastern/Spectra Energy pipeline exploded, injuring one man, destroying his home and damaging several others. The incident was reported at 8:17a.m., near the intersection of Routes 819 and 22 in Salem Township, Westmoreland County, Pennsylvania. Later, Spectra Energy Corp. announced plans to dig up and assess 263 miles of that pipeline, from Pennsylvania to New Jersey.[572][573]
On May 20, a Shell Oil Company pipeline leaked near Tracy, California, spilling about 21,000 gallons of crude oil.[574]
On June 23, a Crimson Pipeline crude oil line leaked in Ventura County, California. Initial reports said the spill size was from 25,200 gallons to 29,000 gallons, but, later reports estimate 45,000 gallons of crude were spilled.[575][576]
On July 6, a Plantation Pipeline line was noticed to be leaking in Goochland County, Virginia. The spill did not reach nearby waterways.[577]
On August 12, contractors were working on one of the main lines in Sunoco Pipeline LP's Nederland, Texas terminal when crude oil burst through a plug that was supposed to hold the oil back in the pipeline and ignited. The contractors were knocked off the platform to the ground, suffering injuries from the fall and severe burns. 7 contractors were injured.[578]
On September 4, a pipeline broke in Kern County, California, spilling reclaimed water & oil.[579]
On September 5, a pipeline in Bay Long, Louisiana was hit by dredging operations, resulting in a spill of about 5,300 gallons of crude oil into the water.[580]