http://www.muskokaregion.com/news-story/5836672-wahta-mohawks-begins-talks-with-province-over-bala-falls/
Wahta Mohawks begins talks with province over Bala Falls

(Well It's About Fkin' Time)
Bracebridge Examiner
BALA -Just a little more than one year ago, Wahta Mohawks chief Phillip Franks sat in the middle of a canoe and was ferried from a dock near the Bala Falls, all part of a large community protest against what he and his administration claimed was a lack of consultation by the various levels of government on the proposed and controversial power plant project.
Now after months of negotiating rough political waters, Franks may be on the verge of getting his wish.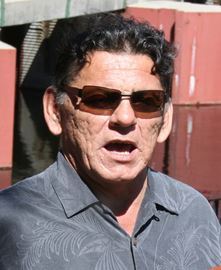 The chief said late last week that he has had one meeting with officials from the various Ontario ministries associated with the project, with plans to hold another one at a later date.
"Where this will go I am not sure right now," he said. "Now that the project has changed and it appears it will be bigger and allow more water through, we have these concerns about the impact on the river."
The Wahta Mohawks have insisted that the Crown land that is slated as the construction site for the plant is a historical portage for the First Nations people, and that the current council had not received proper consultation, although Ontario government officials have stated they did discuss the project with the previous council.
Wahta representatives have stated they have nothing to indicated those previous consultations took place, and that changes to the plans for the plant by the proponent, Swift River Energy Ltd., necessitated more discussion between the governments and the First Nations officials.
Franks said a recent meeting he had with the deputy minister of Aboriginal Affairs assisted in moving the talks with Ontario officials along.
"I met with the Aboriginal Affairs people back in June, I believe it was, and they offered to co-ordinate a meeting between ourselves and those ministries involved with the project at Bala, that being the Ministry of the Environment and the Ministry of Natural Resources and Forestry," he said.
The meeting happened in August, and Franks said he use the opportunity to reinforce the Wahta Mohawks' position on what they saw as the lack of consultation on the plant project.
He said he was told during the meeting that Swift River officials contacted the previous chief at one time.
"That was about the extent of it at the time. No public meetings, etc.," he said, adding he also used the meeting to express concerns his people had about the project, including effect on the water flow, wildlife and fishing.
Franks said there was an agreement to hold another meeting on the Bala Falls situation but a date has not yet been established.
"I think (the first meeting) was a cursory, maybe and that they were there to hear our concerns. We will be doing a follow-up call ... we will wait for now."